Your Financial Story
And it's Done! Welcome to Practical Financial Education
---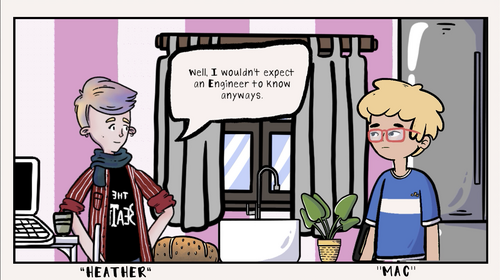 Release Update
After a full year of working on this project, Your Financial Story is finally released! This game was born out of my frustration with a lack of educational games on the market, and fun educational games as well. Many had boring graphics, or were nothing more than glorified quiz games, not Game based learning! Even the most popular financial literacy game online is again, a quiz game. In my educational experience, this doesn't get kids engaged. As a teacher, I went to the drawing board and thought about how to best engage my students in financial literacy skills, and get meaningful practice with the content in an engaging way, and hence, Your Financial Story was born.
The game is built upon several years of research under Game-Based Learning methods, and players decide on careers, life paths, and must learn to Zer0-sum budget through play. This makes budgeting practice engaging, and gives players a taste of what the real world might look like if they were to be a chef. Could they afford that basement suite? Or would they need to get a roommate? What happens if their car breaks down? (Or is a car even realistic?) All these types of questions prepare students for the real world, but without a safe sandbox (and fun sandbox) to engage within, students never get the chance to practice these skills and take them with them into the real world.
The hope is that this game can be used as either an introduction game, learn more financial skills with extended curriculum (learning everything in a single game is impossible, but your financial story is a good start!), then come back and replay the game again, making different financial desicions and discovering how your world changes.
I hope that this game can make an impact on you, and further your financial goals in life by giving you a structure to build your financial aspirations upon.