Your Financial Story
A downloadable game for Windows, macOS, Linux, and Android
A No-Nonsense Game about Personal Finance, Money Management, & Budgeting
Take control of your personal finances through game-based learning! Your Financial Story follows your life; from researching top careers, adapting to unexpected life events, practical budgeting, and beyond.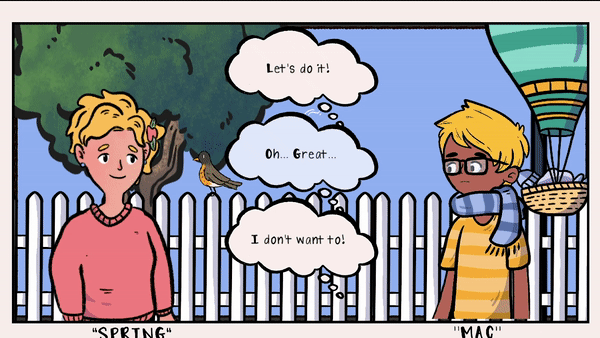 Discover how to leave your parent's house, choose a career, and adapt to real life situations as you learn how to budget for life along the way.
Practice the world's most effective budgeting method (Zero-sum) in environments tailored to your personal financial situation.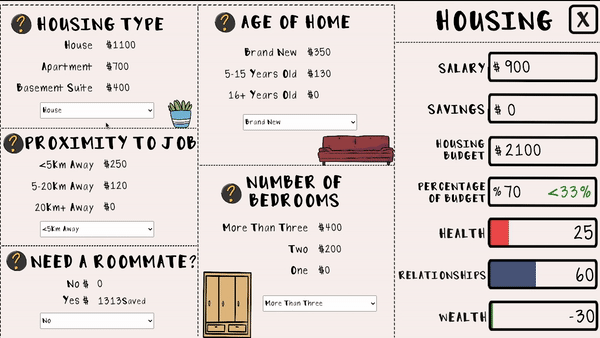 Learn top earning careers available with a highschool diploma, trade certificate, or university degree
Explore a vast, comic book world, jumping in and out of different panels & environments
Experience an engaging real world personal finance simulation
Your Financial Story is designed with the latest in Game-Based Learning research in mind
Learn through game mechanics that transfer learning more effectively than traditional paper & pencil learning methods
More info at https://www.yourfinancialstory.info/home

Purchase gives you access to all available platforms:
Windows 7,8,10
MacOS
Linux
Android 5+
HTML5 on any modern desktop, smartphone, or tablet browser
FOR EDUCATORS:
If you would like a free copy to test for your classroom before purchasing, contact me at yourfinancialstory@gmail.com. When you purchase the educator class set ($15 USD total) you will be granted the legal permission to share the installable files or HTML5 restricted access link with up to 30 students.
How to Play:
Keyboard:
1. WASD & Arrow Keys = Movement & Jump
2. Hold Shift = Run
3. Space = Select/Jump
4. Alternative Select - Left click
Mobile or Touchscreen:
Onscreen Touch Controls
| | |
| --- | --- |
| Status | Released |
| Platforms | Windows, macOS, Linux, Android |
| Rating | |
| Author | Brogan M. Pratt |
| Genre | Educational, Visual Novel |
| Made with | Adobe Illustrator, Adobe Photoshop, Construct |
| Tags | banking-game, construct-3, financial-literacy, Hand-drawn, highschool, money-management, Narrative, personal-finance |
| Average session | About a half-hour |
| Languages | English |
| Inputs | Keyboard, Mouse, Touchscreen, Smartphone |
| Accessibility | Color-blind friendly, Subtitles, Configurable controls, Interactive tutorial |
| Links | Blog, Support, Twitter |
Purchase
In order to download this game you must purchase it at or above the minimum price of $3.94 CAD. You will get access to the following files:
Your Financial Story (2.1) Linux (32x & 64x)
791 MB
Your Financial Story (2.0) Android
128 MB
Your Financial Story (2.1) Windows x64
357 MB
YourFinancialStory (2.1) Windows x32
353 MB
Your Financial Story (2.1) MacOS
431 MB
HTML5 Access Link & Password .pdf
105 kB
Educator Package (30 lisences).pdf
114 kB
if you pay $18.80 CAD or more
Also available on
Comments
Log in with itch.io to leave a comment.
How i can install this on android? Or this is not play from an apk?
I can the Windows Version of this Game not downloaden. Help!
Hello, I wanted to ask if you'd be willing to have one of your games be part of a Visual Novel co-op bundle?
I'm planning to run the bundle from March 7th to 21st. Revenue would be split equally. And the bundle price would be set at $1 USD per game.
Let me know if you have any questions.
Hi,
That would depend on what other games are bundled together. I'm more than happy to participate, but it needs to make sense with the scope of this educational game.
I messaged you because your game is tagged as a visual novel. There aren't any other educational games in the bundle. Do you still want to participate?
With a lot of time and effort. Construct 3 is a very powerful game engine, and you can make things quite quickly compared to other engines. It's probaly the quickest/most efficient 2D engine out there. Were you looking for resources on how to do something similar?
So I know your level of experience, are you looking for a completely beginner guide to Construct 3, intermediate, or some ways of implementing dialogue systems?
Sorry this took so long to get back to you.

For intermediates, Here are some avenues to take.
If you're looking for help on a specific issue in your game, the construct 3 forums are immensely useful. https://www.construct.net/en/forum
Construct 3 also has a great library list of tutorials available for a variety of topics https://www.construct.net/en/tutorials?flang=1
Trying to read through and understand the construct Documentation (in combination with forum trolling/posts) is incredibly useful. Not sure what events can be triggered on a timeline? Check the documentation to see how to interact with the tools and how to use specific triggers, events, and blocks. https://www.construct.net/en/make-games/manuals/construct-3

Often times I'd check the documentation if a specific block was not working the way I intended

As usual, an internet search with tags "construct 3" and multiple keywords (and learning what correct keywords to use from subsequent searches) really helps with helping to narrow down your specific problem.
Overall, it takes time working with the game engine to understand how Construct 3 works, and how to best create useful projects. It's quite a fast and powerful engine, but requires some specific ways of writing code to make it do what you want it to. Big advice, don't get stuck in the trap of trying to make your previous code "perfect". Much of my code is pretty scary on the back end, but it "works" and that's what matters for the game! Even if it is supported by popsicle sticks on the back end, it functions just fine for its intended use case. If you constantly try to go back in and change old code, you will forever be stuck
PS: (If you wouldn't mind editing your course language in previous posts, that would be great. This game is intended for Highschool students so I wouldn't want to send a wrong message)
Hi, we're interested to look into that as well. Please email us at roomahgaming@gmail.com
Hi there! You can choose to pay via Visa without needing to create a Paypal account.
Just select 'Paypal', then select to 'pay with Credit or Debit', fill out your info, then at the bottom of the screen when it asks if you want to create a Paypal account, select 'no thanks.'

It goes through Paypal for security purposes, but there is no need to actually create or have a Paypal account.